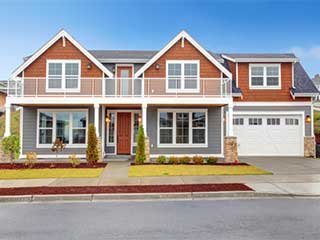 Choosing the right garage door for your home is quite an important decision. This is the largest point of entry to your house and, as such, it needs to be visually appealing as well as functional and durable. The type of door you choose should complement the rest of your house and the factors you need to take into consideration are the external color, the age and the general style of your home.
The Beauty of Wood
There is no doubt about it, wood is one of the most beautiful materials you can use in several household applications. A wooden garage door is no different and will add elegance and chic to your home. Something to consider though, is that wood requires more frequent maintenance. It may not last as long as other materials and even less so if you do not repaint it frequently.
The Sturdiness Of Steel
If you are looking for something a little more durable then consider going with metal. For the most part, steel garage doors are galvanized and tend to last longer than their wooden counterparts. They need less maintenance too, however, they can rust and will need to be regular checked for that.
The Simplicity Of Aluminum
Aluminum is one of the best materials to use for overhead doors because it is lighter in weight and generally easier to work with. Many aluminum garage door models come with laminated panels which do not rust and are not so prone to dents, as the material itself may be. Because of the versatility of aluminum, these doors can be ordered with reinforcing attributes, like extra thickness and other features depending on what you need.
Other Factors To Consider
Before choosing your new garage door, there are many affecting factors to consider. Some of these include local weather conditions and frequency of rain. If you live close to the sea, the possibility of rust is increased due to an excess of moisture in the air. Keep in mind that weight and insulation also need to be taken into consideration. The heavier your door is, the stronger your opener and springs will need to be. The higher its R-value is, the more it will be able to keep outside temperature from affecting the conditions inside your garage. If you're looking for experts who can help you make an informed decision, give our team at Garage Door Repair Champlin a call.